Her på Blåvand's blog bringes korte nyheder i dagbogsformat om livet og hændelser på fuglestationen.

Se indlæg fra år: 2023 (97)2022 (265)2021 (276)2020 (279)2019 (247)2018 (211)2017 (276)2016 (118)0 (1)(se alle)


Endnu en hvidbrynet ringmærket
mandag 28. september 2020
Stille morgenobs.
Vejr: først ret klart, men efterhånden noget mere skyet. Svag vind fra omkring nordøst. Ret lunt med temp. op til 20 grader. Rimelig sigt.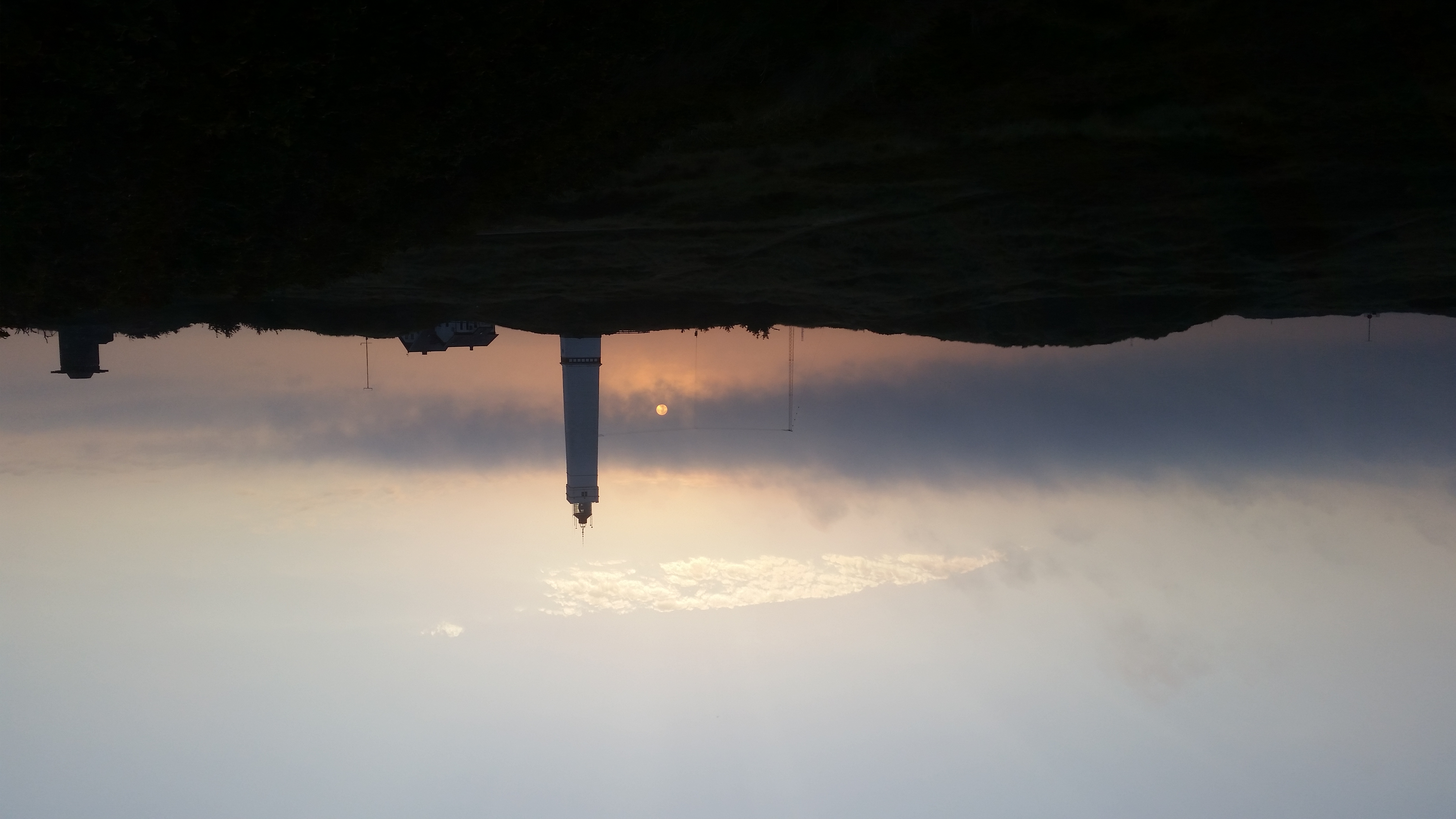 Solopgang bag skyerne. Foto: Michael Brunhøj Hansen
Igen i dag var der mange småfugle i buskene, men ikke mange i luften. Der kom dog bl.a. flere hedelærker (8), og lidt sanglærker (13). 10 bjergvipstjerter blev det til. Endnu en lapværling trak over i dag, og der kom nogle korsnæb, bog- og kvækerfinker osv. Meget få engpibere.
Over havet var der temmelig stille med bl.a. kun 31 rødstrubede lommer og 460 sortænder. 173 skarver og 9 knortegæs trak.
Ellers blev det til huldue (1) og 8 trækforsøgende skovskader. 2 spætter var også forbi, og den ene kunne vi høre røg i et af nettene i Fyrhaven.
Merit er tilbage på stationen og blev hentet ved stationen her til eftermiddag. Hun skal bliver her resten af ugen som godt kunne blive spændende.
Vi skal have noget søndenvind i morgen og måske kommer der lidt småregn. Det kunne godt give nogle andefugle.
Folk: Bent, David, Rose, Daniel, Merit, Luke, Michael.
---
We had a good ringing day today with 89 new birds and 9 recaptures, for 98 birds total. Highlights include two more Great-spotted Woodpeckers and another Brambling. Rose joined us today as well as a couple of Daniel's friends, Hedda & Moritz, from Germany who are holidaying nearby.
As we left the lighthouse garden after the first round, I noticed a lot of birds in one of the nets we could see from the path: a flock of Blue Tits! Bent had been saying yesterday these should be arriving soon, as there has been many in Eastern Denmark recently. Blue Tits are notorious for being prickly customers and know where exactly to use their tweezer like beak to inflict the most pain with a tiny pinch. We caught two small flocks today, one in each garden, a gentle refresher before potentially much larger numbers arrive. Aggression aside, they are really beautiful birds.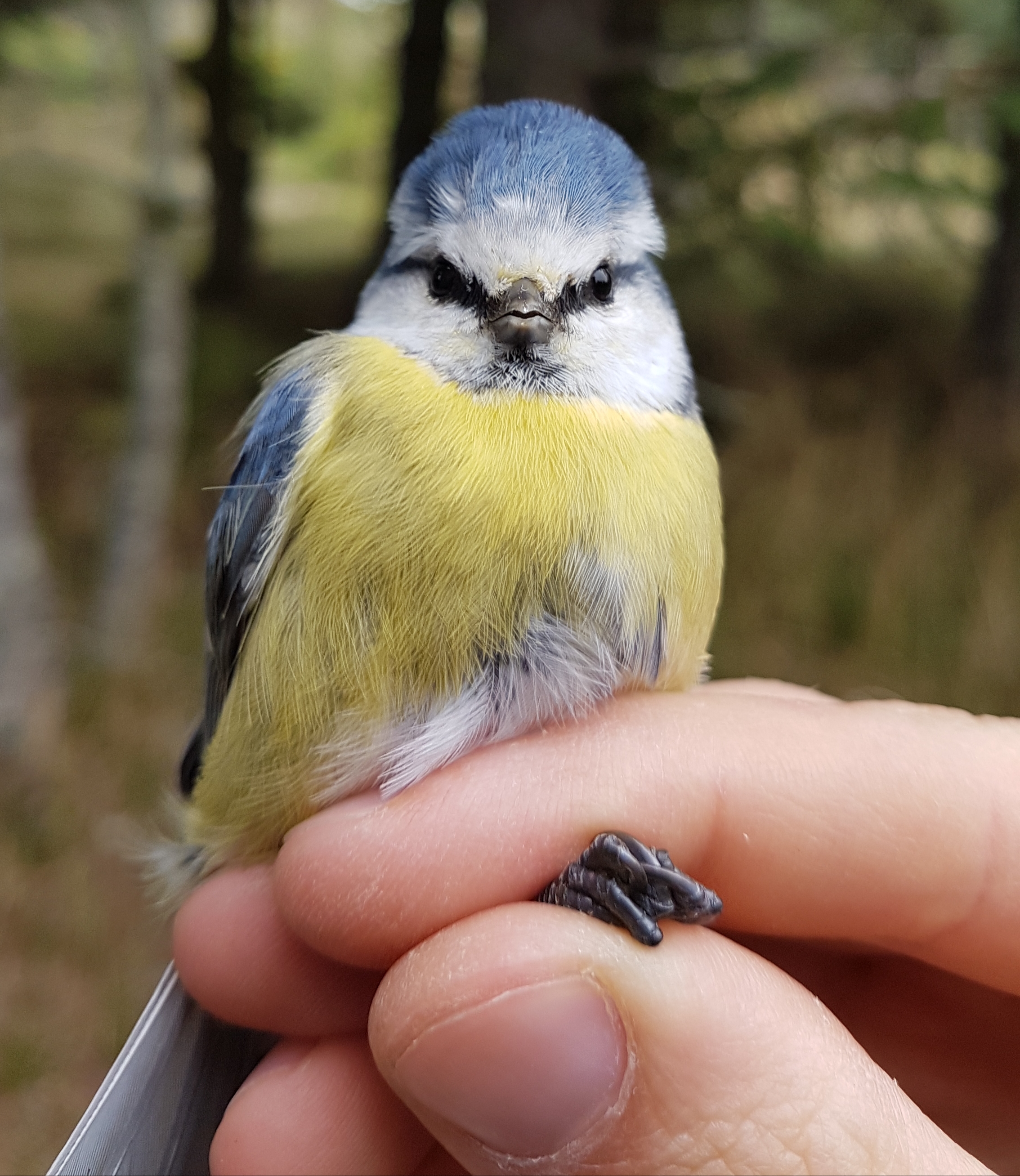 Blue Tit: striking fear into the heart of ringers. Photo: Luke Nelson
In our final net round in the lighthouse garden we caught a Yellow-browed Warbler, which Daniel got to ring as his first one. I hope it was yesterday's bird so we've been effective at catching any that pass.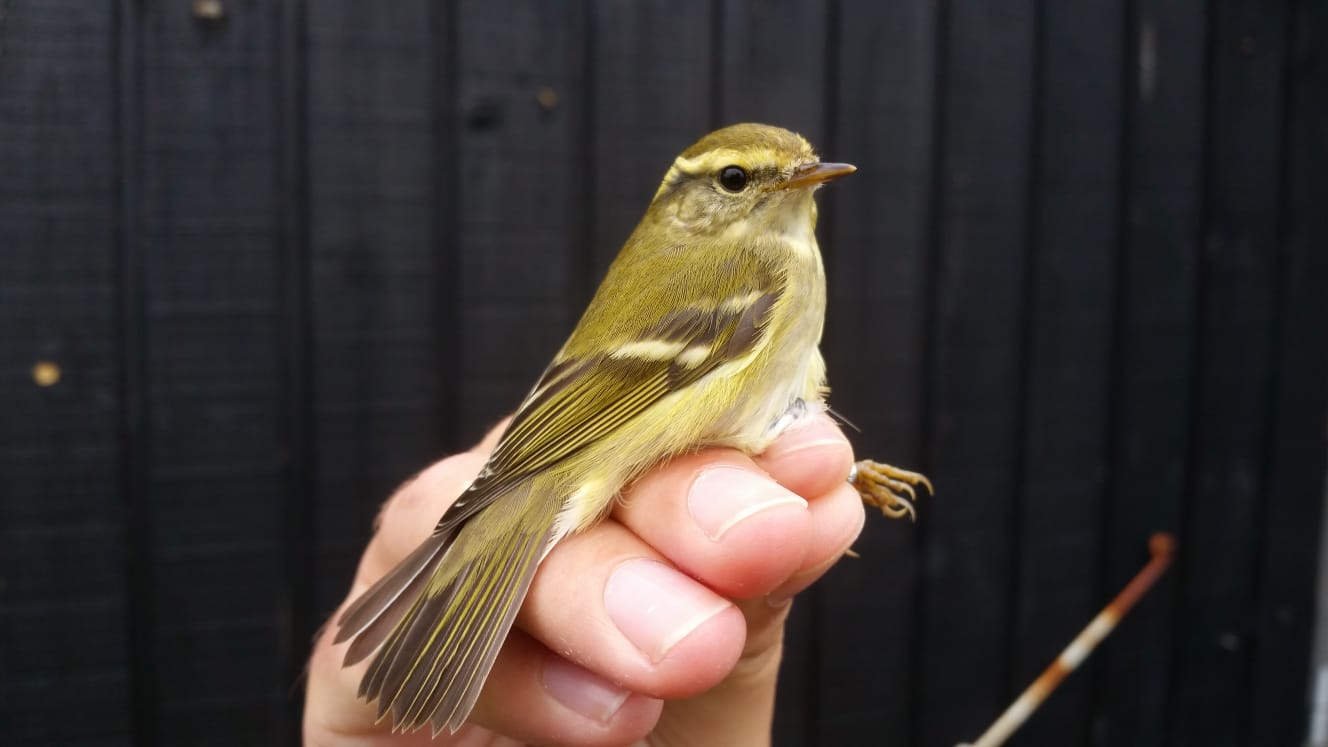 Yellow-browed Warbler. Photo: Michael Brunhøj Hansen
I kept station garden nets open for a few hours this afternoon as they were still catching. We caught around 15 birds including a smart-looking young male Blackbird which was all black, and the first Redwing for the Autumn! I've seen and heard these the past few days so was hoping we'd catch one soon.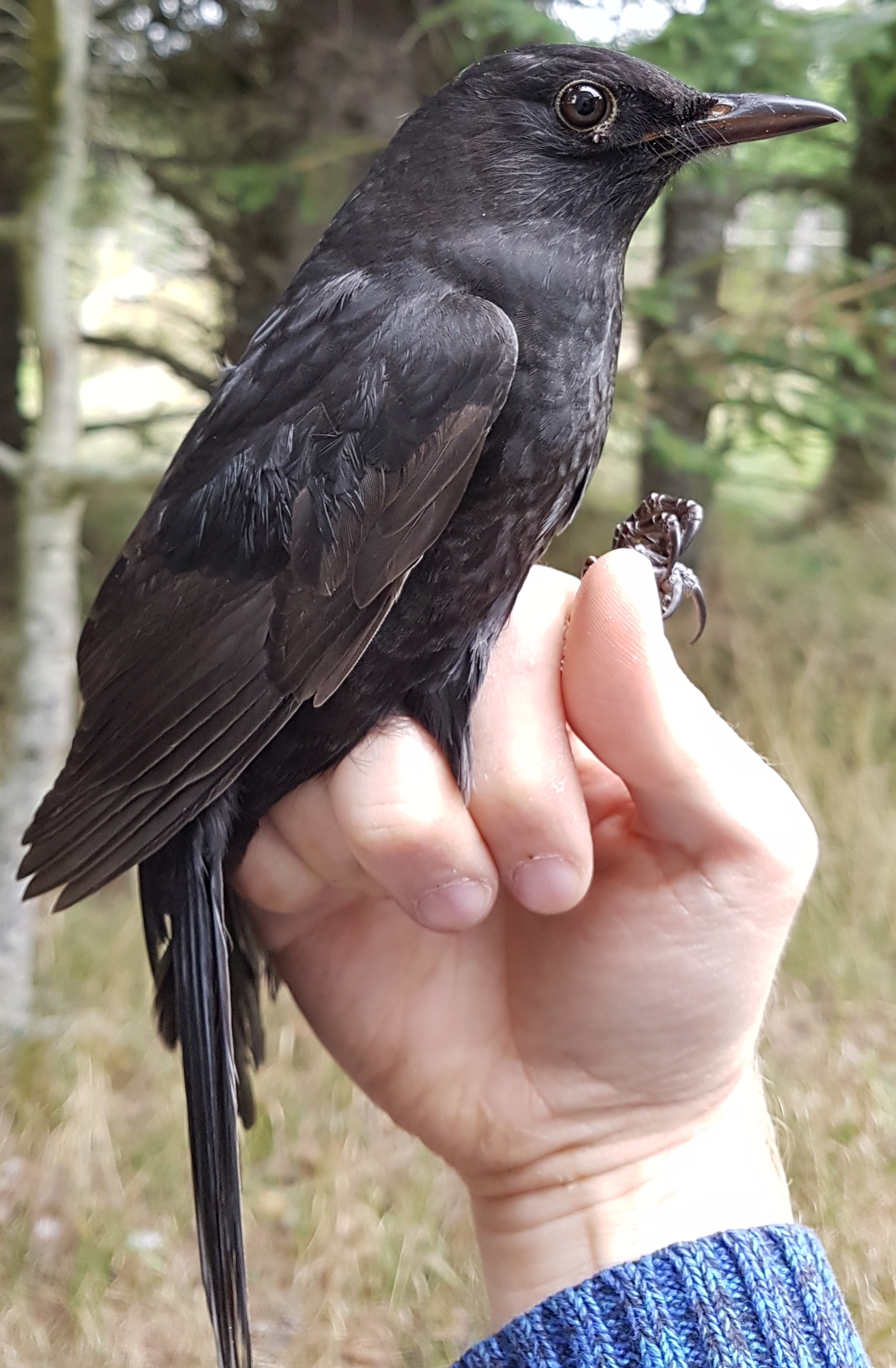 All-black young male Blackbird. Photo: Luke Nelson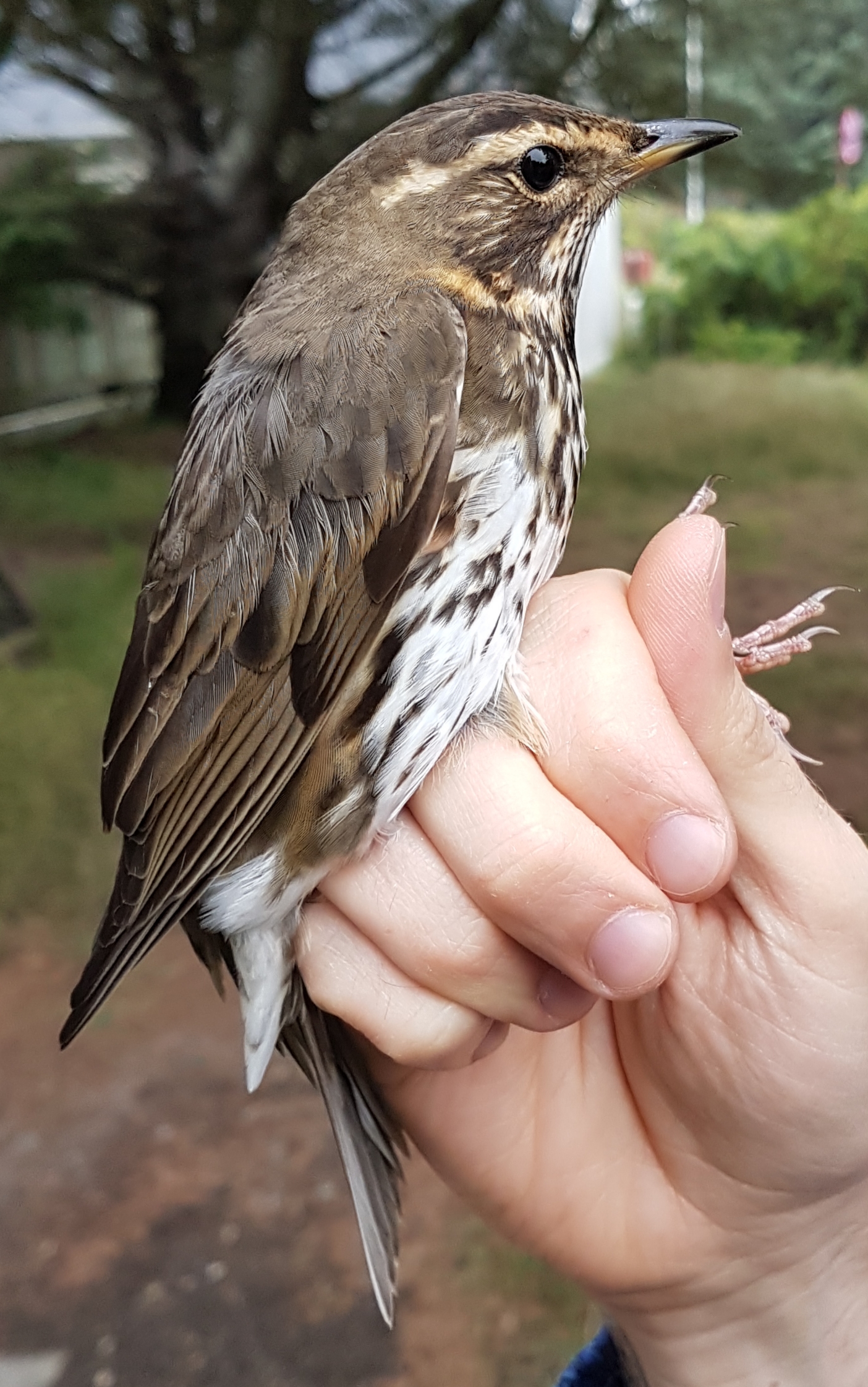 Redwing. Photo: Luke Nelson
There have been lots of hoverflies about today, as well as some Red Admiral butterflies. I think these are migrating too, although I don't know much about them.
| | | |
| --- | --- | --- |
| Species | Ringed | Recaptures |
| Great Spotted Woodpecker (Stor Flagspætte) | 2 | 0 |
| Wren (Gærdesmutte) | 1 | 0 |
| Dunnock (Jernspurv) | 7 | 1 |
| Robin (Rødhals) | 14 | 4 |
| Common Redstart (Rødstjert) | 1 | 0 |
| Blackbird (Solsort) | 1 | 0 |
| Song Thrush (Sangdrossel) | 4 | 0 |
| Redwing (Vindrossel) | 1 | 0 |
| Garden Warbler (Havesanger) | 1 | 0 |
| Blackcap (Munk) | 7 | 3 |
| Yellow-browed Warbler (Hvidbrynet Løvsanger) | 1 | 0 |
| Chiffchaff (Gransanger) | 14 | 0 |
| Goldcrest (Fuglekonge) | 6 | 0 |
| Blue Tit (Blåmejse) | 17 | 0 |
| Great Tit (Musvit) | 0 | 1 |
| Chaffinch (Bogfinke) | 5 | 0 |
| Brambling (Kvækerfinke) | 1 | 0 |
| Siskin (Grønsisken) | 4 | 0 |
| Yellowhammer (Gulspurv) | 2 | 0 |
| Total | 89 | 9 |