Her på Blåvand's blog bringes korte nyheder i dagbogsformat om livet og hændelser på fuglestationen.

Se indlæg fra år: 2023 (249)2022 (265)2021 (276)2020 (279)2019 (247)2018 (211)2017 (276)2016 (118)0 (1)(se alle)


Unusual November Observations
lørdag 13. november 2021
A grey day that brought surprises.
Hello everybody!
Today was a rather cold and grey day in Blavand, interspersed with light drizzle. And yet Jonas and I were not the only ones who ventured out in this messy weather: a group of birdwatchers came to the bird station to accompany us on a few net rounds and to watch the ringing. Today we were able to meet the standard time, 5 hours of ringing, and it was not bad at all, so late in the season. On one of my last days here I was able to ring a species that I had not ringed before: Because a Fieldfare (Sjagger) found its way into the station garden, a rare guest in the nets.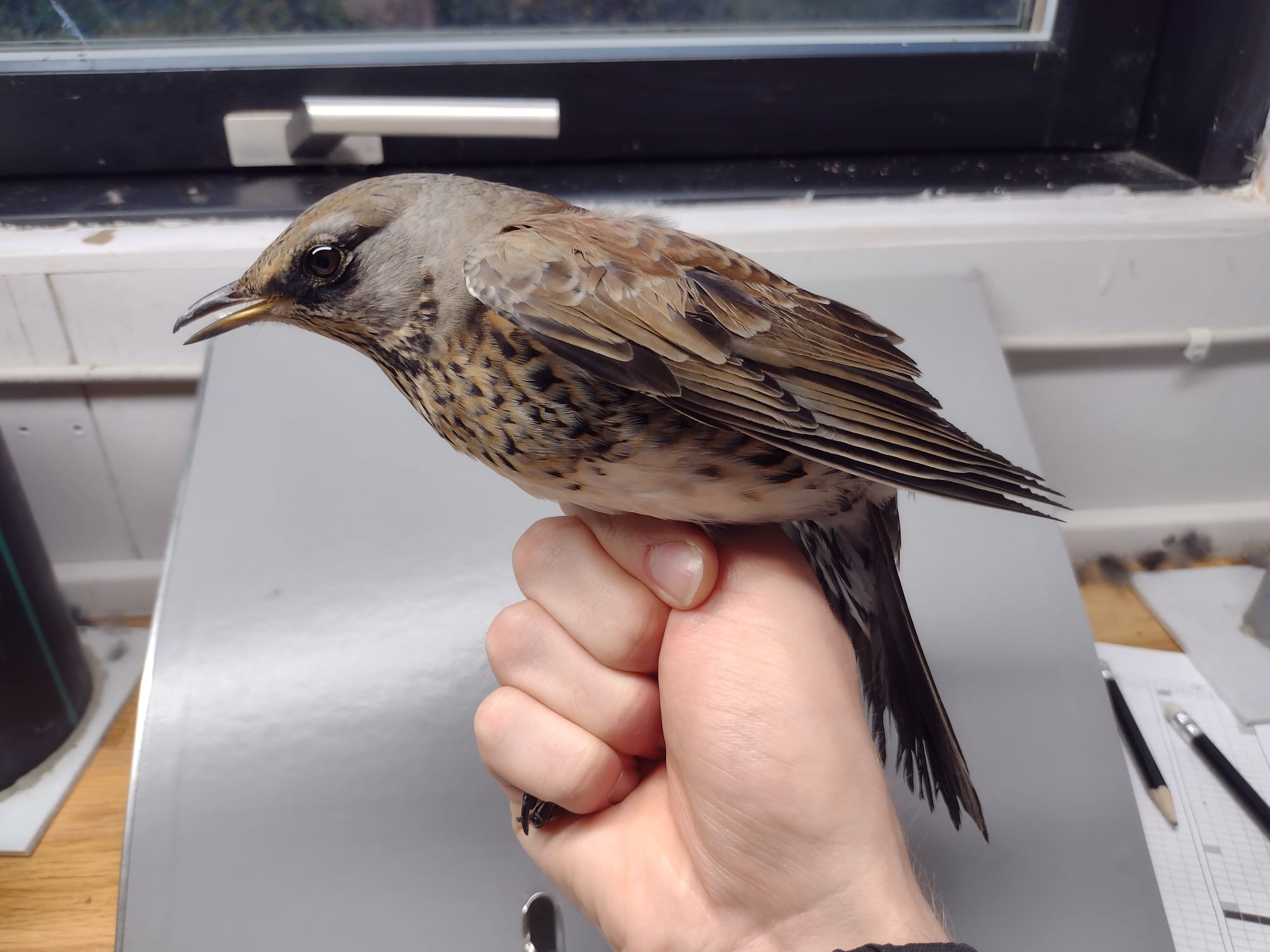 Fieldfare (Sjagger)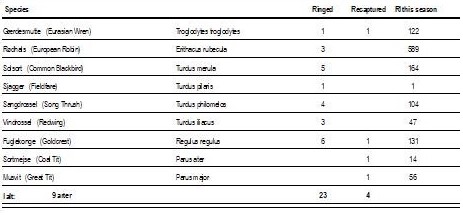 Jonas left to Skallingen immediately after ringing. I had lunch, then I soon went back out into the drizzle, somehow you have to make use of these last days. I grabbed the bike and bought some ingredients for Flammkuchen for dinner, then I went to the three masts.
The result of our observations in the field today? A very unusual result, I must tell you. Jonas discovered a Pied Flychatcher (Broget Fluesnapper) in Skallingen. According to DOFbasen, the latest Pied Flychatcher observed in Denmark! I'm already waiting for someone to doubt that, Jonas said. But there is a proof photo, see for yourself!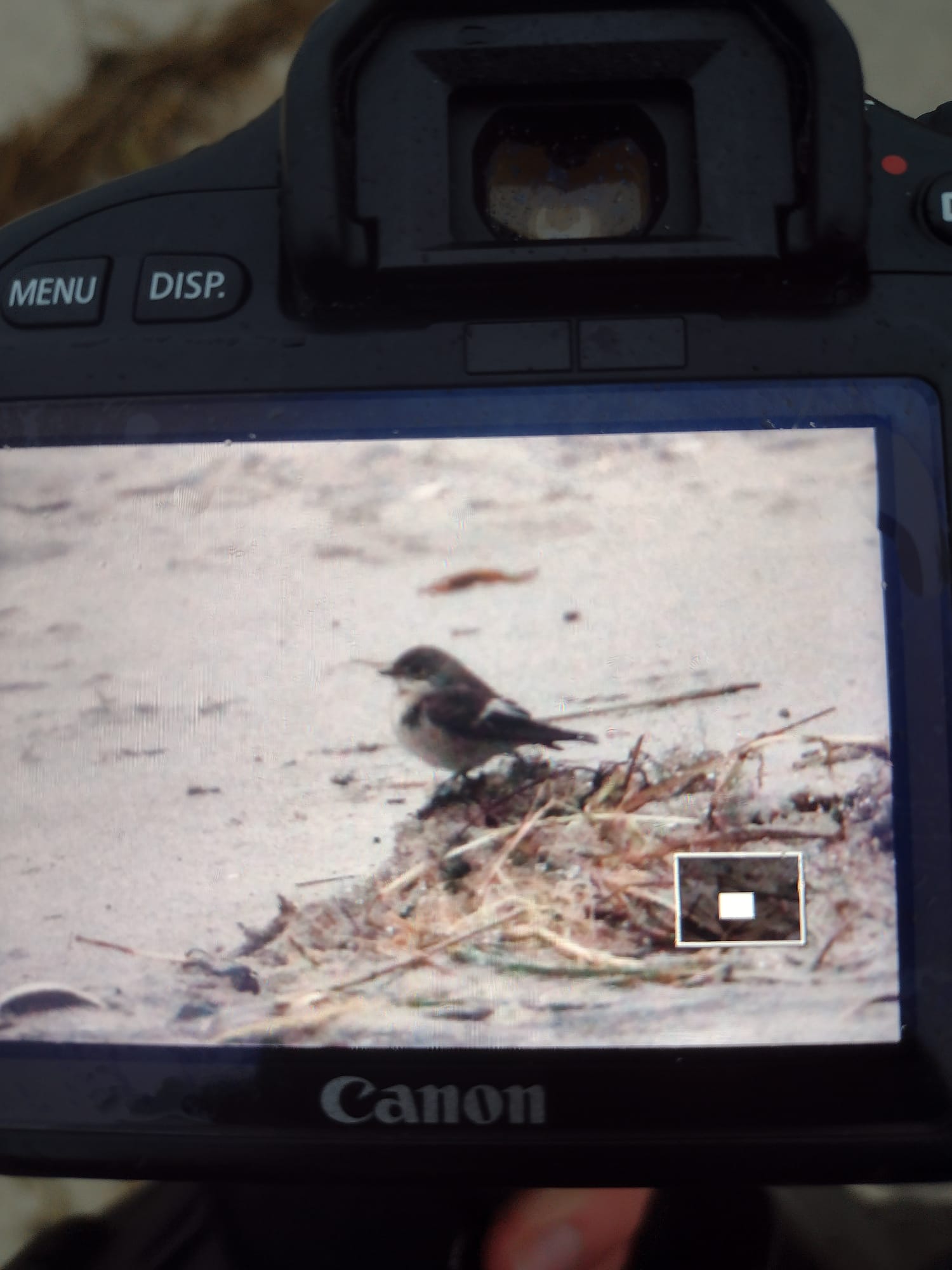 Pied Flychatcher (Broget Fluesnapper)
I was also able to report an unusual observation for November today. Lured by the whistling of the Goldcrests (Fuglekonge), I made my way into the thicket near the old school(?)- building opposite Ultisat Europe. I soon discovered the Goldcrests and then - I couldn't believe my eyes - a bat (Flagermus). In the middle of November. On a cold day with drizzle. But it did me a favour and flew another arc so that I saw it very well. A bat indeed. How crazy. Unfortunately, there is no proof photo here, so you'll have to take my word for it.
There were no more curiosities today, the Flammkuchen was a success as always. So once again a day in Blavand is coming to an end, I wish all readers a good night, see you bright and early tomorrow!
People at the Bird Station: Jonas Pedersen and Hanelie Sidhu