Her på Blåvand's blog bringes korte nyheder i dagbogsformat om livet og hændelser på fuglestationen.

Se indlæg fra år: 2023 (200)2022 (265)2021 (276)2020 (279)2019 (247)2018 (211)2017 (276)2016 (118)0 (1)(se alle)


Many people, not that many birds
tirsdag 12. april 2022
Today was a very busy seawatch. Besides every one of the station today, Bent was sick so there was no ringing in the morning, we also had a visitor. This made a total of 5 persons on the seawatch. Unfortunately, there were not that many birds that needed to be counted. A highlight were some migrating pochards, although I did not see them because of a short break because of some nature's urge. By counting together, you really start to know each other, so that was nice.
After the seawatch, a serin in the area was reported but we were not able to twitch it, because it was flying north. Then a bluethroat was reported, that one was a successful twitch for everyone who went. A short-eared owl was reported as well, but not seen by anyone else but the observer who reported it. The second red kite this season flew over. After that Oliver and Jens decided to go to Blåvand. When Oliver and Jens walked to Blåvand, they came across three cranes. They might breed in the area, so we will be alert on that.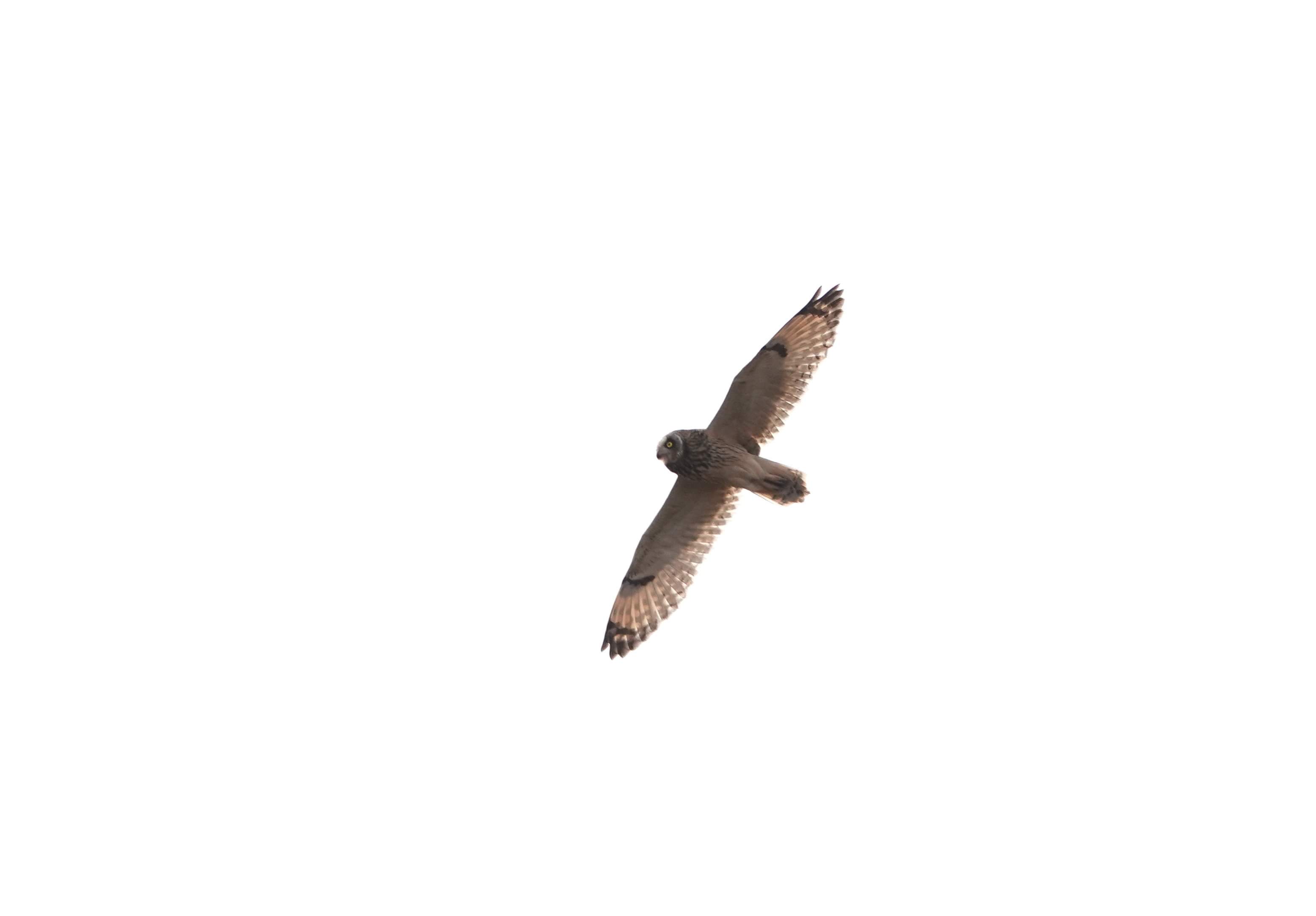 Short eared owl - Photo by the observer
After the lunch, I got some nice news. My X-license got promoted to a C-license. To use the opportunity, I directly opened up some nets, and I could directly ring some new birds. It was nice, since we did not ring any birds for five days now. What really stood out, is that we caught a incubating female greenfinch. We also ringed it on the 30th of March, also showing a broodpatch. Hopefully, the nest survived the windy and cold conditions of last week.
Doflink: https://dofbasen.dk/search/result.php?design=table&soeg=soeg&periode=dato&dato=12-04-2022&omraade=stor&stor=607&obstype=observationer&species=alle&sortering=dato
Trektellen: https://www.trektellen.nl/count/view/2525/20220412
Ringing list (new/recapture):
Robin (5/0)
Chiffchaff (1/0)
Blackbird (1/0)
Dunnock (3/0)
Redpoll (0/1)
Greenfinch (1/0)
11 new birds over 5 species
People at the station: Jens, Oliver, Bello, Thyge Enevoldsen and Menno den Uijl