Her på Blåvand's blog bringes korte nyheder i dagbogsformat om livet og hændelser på fuglestationen.

Se indlæg fra år: 2023 (106)2022 (265)2021 (276)2020 (279)2019 (247)2018 (211)2017 (276)2016 (118)0 (1)(se alle)


Efterårets hidtil bedste ringmærkningsdag
onsdag 25. september 2019
Omkring 140 rødstrubede lommer og 1 sortstrubet.
Dagen var ret diset og gråt, og der var ikke forfærdeligt mange trækfugle trods sydøstenvinden; det var i ringmærkningshaverne det sneede. Ikke desto mindre havde vi en del rødstrubede lommer, nemlig omkring 140, og vi havde vores første sortstrubede lom dette efterår (de er sjældne på disse kanter). Af rovfugle blev det til 1 tårnfalk, 1 vandrefalk og 1 dværgfalk, og vi havde af vadefugle 4 strandhjejler, 1 småspove og 11 almindelige ryler. Det blev heller ikke til så mange andefugle, nemlig kun 12 pibeænder, 9 toppede skalleslugere, 6 spidsænder og 6 krikænder; der kom kun 1 grågås af gæs.
Der var fest i haverne da blåstjerten blev genfanget i Fyrhaven. I Stationshaven blev to rødtoppede fuglekonger fanget samtidigt. Det blev alt i alt til den hidtil bedste ringmærkningsdag dette efterår med over 130 ringmærkede fugle (mere info forneden).
I Fyrhaven havde Svend Aage Clausen og Svend Rønnest en hvidbrynet løvsanger; den fløj desværre ikke i et af nettene.
Sent om aftenen ankom Lisas mor, bror og søster og skal blive nogle dage. Vi er nu 7 personer på stationen, og der kommer yderligere to på fredag, så der bliver godt fyldt op i weekenden!
I morgen fortsætter sydøstenvinden, så vi håber på lidt mere træk end i dag.
---
Lisa Flam:

SE WIND PLEASE STAY! (well, go and come back real soon please).

Today while we were opening the nets I didn't see/hear many birds around, but the weather, wind and clouds were all perfect for a good day.
We decided to go out for first round earlier than usual anyway, just to be safe. Down in the station garden we had 2 nets with over 20 birds in them and contacted Bent he should hurry- we already know that 20+ birds down here would mean many more in the lighthouse garden.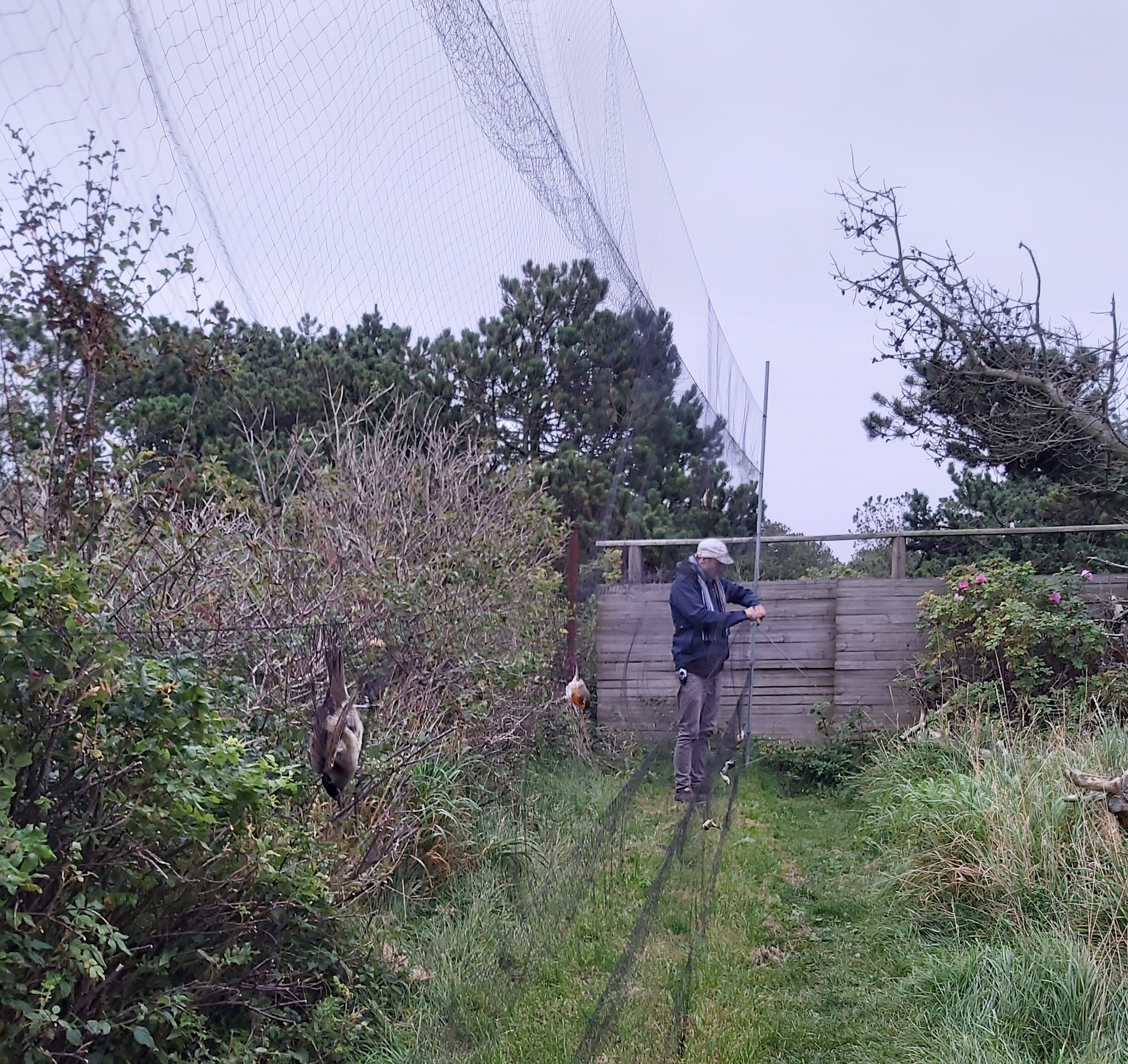 Mathias and a net filled with birds. Photo: Lisa Flam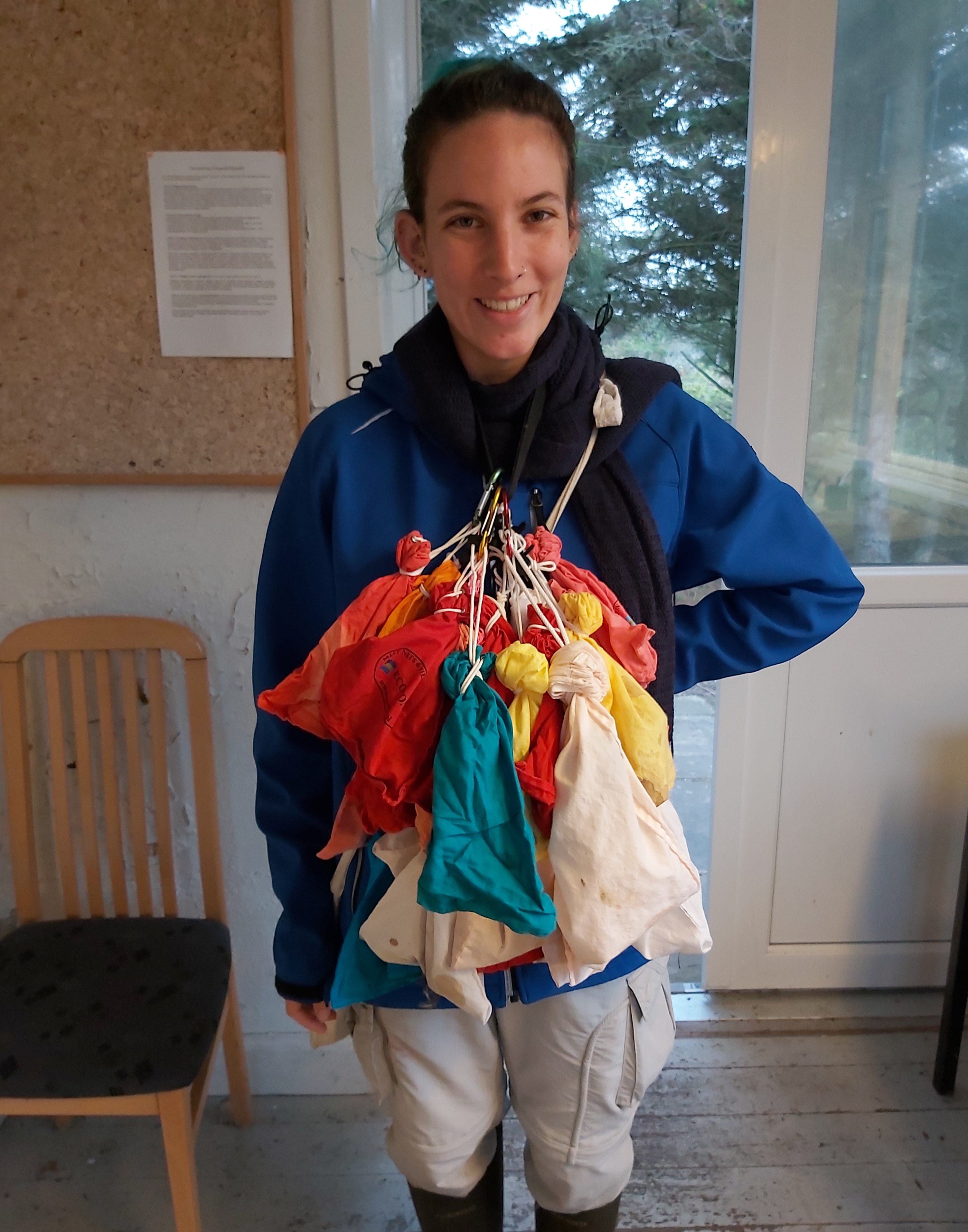 Lisa with bags full of birds, and yes, It was heavy.
Mathias and I finished ringing 30 birds in the station garden and rushed up to join Henrik and Bent. When we talked to Henrik we were told "at least 25 Chiffchaffs (gransangere) in one net and also recap Red-flanked BLUETAIL (blåstjert)". I'll make a long story short and say that in total of the first round we had over 100 birds! While the guys were getting the birds out of the nets I was ringing and had Svend Rønnest help me write the data.

The Red-flanked Bluetail lost 0,3 grams so maybe it will stay around for a few more days.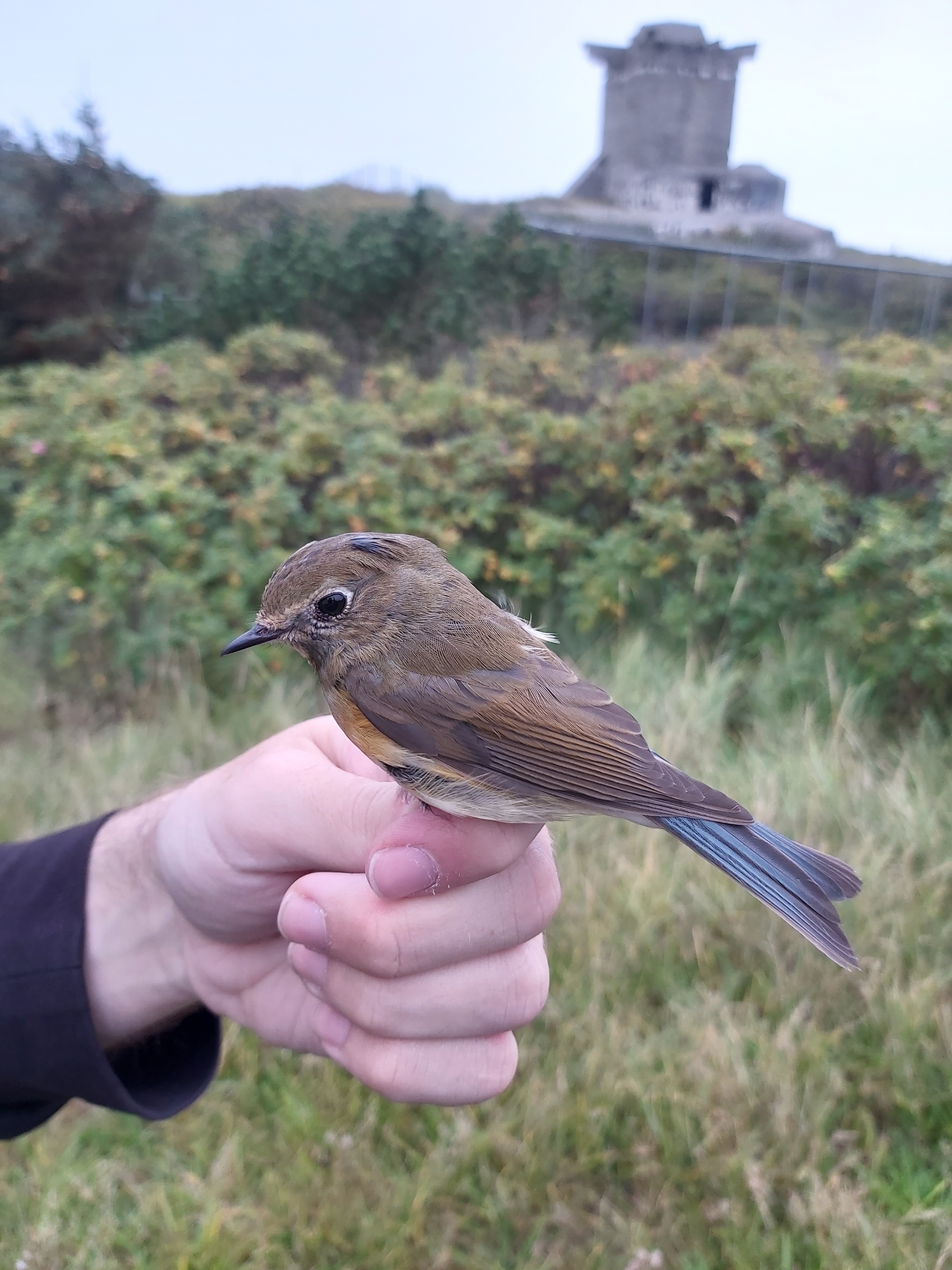 Recapture Bluetail. Photo: Lisa Flam

Thanks to Bent, Henrik and Mathias everything went smooth.

After this strong morning David called to say it is about to rain and in seconds the rain was really strong. Bent and Mathias ran out to close all nets and make sure no bird is still in them while I finished ringing the birds in the lab (I got the dry job this time!). After about 45 minutes we opened the nets again and had about 30 new ringed birds.

Michael joined the last rounds and was able to get a few birds out of the nets as well.

It was a wonderful day with plenty of birds, people and nice weather. Thanks everyone for your help!
| | | |
| --- | --- | --- |
| Species | New ringed | Recapture |
| Wren (gærdesmutte) | 1 | |
| Dunnock (jernspurv) | 3 | |
| Robin (rødhals) | 25 | 1 |
| Common Redstart (rødstjert) | 4 | |
| Song Thrush (sangdrossel) | 7 | |
| Common Whitethroat (tornsanger) | 4 | |
| Blackcap (munk) | 19 | |
| Chiffchaff (gransanger) | 49 | |
| Willow Warbler (løvsanger) | 2 | |
| Goldcrest (fuglekonge) | 15 | 1 |
| Firecrest (rødtoppet fuglekonge) | 2 | |
| Spotted Flycatcher (grå fluesnapper) | 1 | |
| Chaffinch (bogfinke) | 1 | |
| Red-flanked Bluetail (blåstjert) | | 1 |
| Total | 133 | 3 |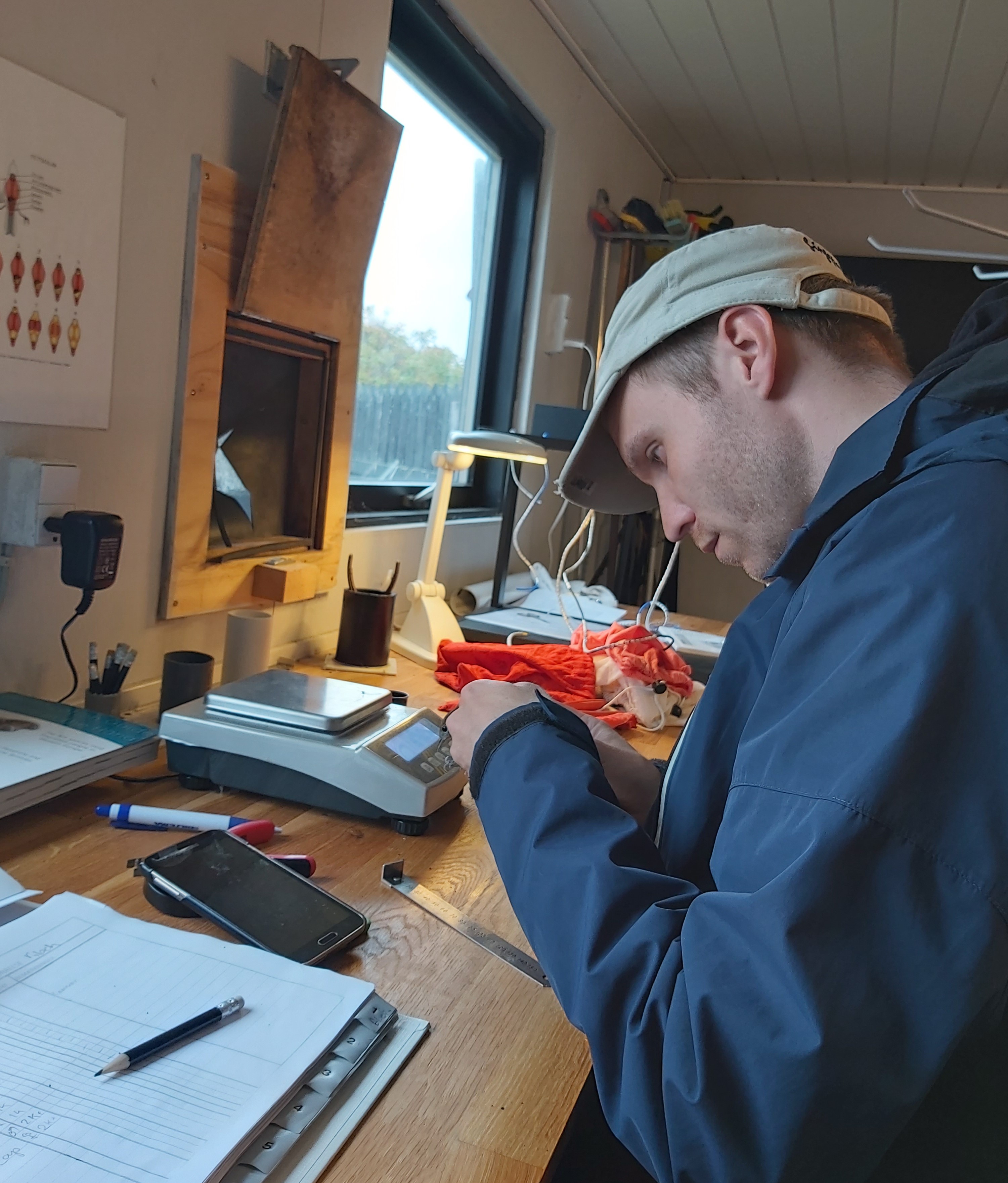 Mathias got to ring some birds once it calmed down. Photo: Lisa Flam