Her på Blåvand's blog bringes korte nyheder i dagbogsformat om livet og hændelser på fuglestationen.

Se indlæg fra år: 2023 (200)2022 (265)2021 (276)2020 (279)2019 (247)2018 (211)2017 (276)2016 (118)0 (1)(se alle)
Se indlæg fra måned: jan. (1)feb. (2)mar. (29)apr. (30)maj (28)juni (8)juli (25)aug. (23)sept. (30)okt. (24)nov. (11)


Luften buldrede med fugle
torsdag 11. oktober 2018
Bedste rovfugledag ved Blåvand nogensinde
With the great results yesterday - meaning a lot of counting work - Jimmy set off with full preparation (enough food and coffee for long working hours) and high spirit. He was joined by Bent and other birders (Henrik, Henrik, Leo and Sven) who came in the station last night to form a "gang of migration watch". More pairs of eyes did yield more results when 63,550 of Bramblings and Chaffinch were counted as they passed through in streams after streams over people's heads that one could not count all that birds without missing some other species. Finches naturally composed the mostly counted species out of over 75,000 migrants counted for the whole day. Seeing finches flying all around was certainly delightful, but it could not drive up adrenaline the way migrating raptors did when the gang saw 76 Red Kites showering the shore! These kites instantly broke their own record made yesterday without breaking a sweat. Before the gang could catch a breath from counting, they saw 7 Rough-legged Buzzards in good view and 98 Sparrowhawks all over the place. In the mean time 12 Hen Harriers and 3 Merlins joined in to make a raptor platter for the day.
Highlight of passerine migration belonged to larks - 717 Skylarks and 167 Shorelarks were counted, which would be a lot to see in one single day here. Grey Wagtails tried to steal the spotlight from larks with very good number of 37 birds and probably one of the best single day records in Blavand. In a regular day, 10,240 Common Starlings for a morning could be some sight worth to see, but a day like this everyone was simply distracted by other more exciting migrants. Blue Tits did not make an impact we expected today with just 577 birds counted. To make up for the loss from missing all the fun on the shore, I tried to look at the sky more when I was not busy with the nets, and in the late afternoon I got one young Peregrine Falcon flying over the main house and a Common Kestrel showing well nearby.
Compared to the hustle and bustle on the shore, migration looked a little bit lackluster in the garden and lighthouse nets as we had in total 279 birds caught. Blue Tits were again the mostly ringed species with 172 birds. Adding 32 Great Tits and 8 Coal Tits (where is Crested Tit?? I need one on net!), tits altogether again made up the major force on nets. The rest of the ensemble were Blackcap, Chiffchaff, Firecrest, Goldcrest, Dunnock, Robin and a young Black Redstart which we don't catch very often. We closed nets at 1500. Dinner time was "the more the merrier" when we had four new visitors joining us. We had yummy chicken legs and an excellent dinner prepared by Sune!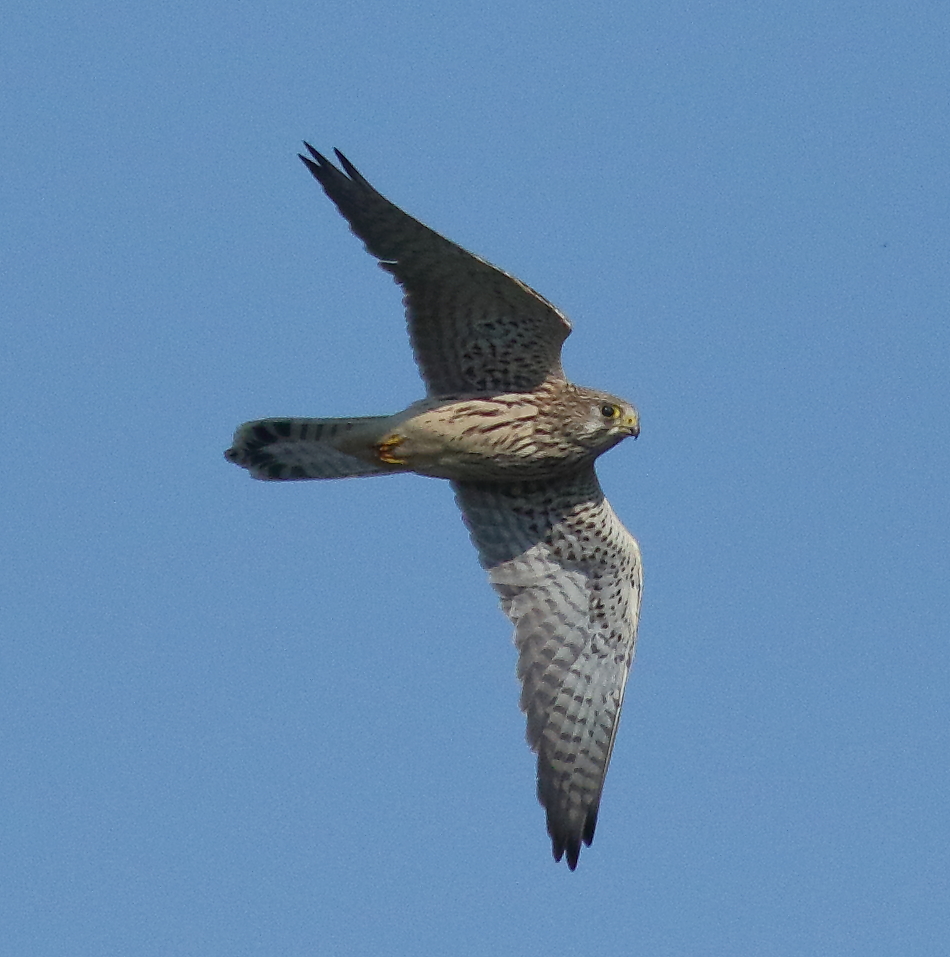 Foto: Jennifer Leung